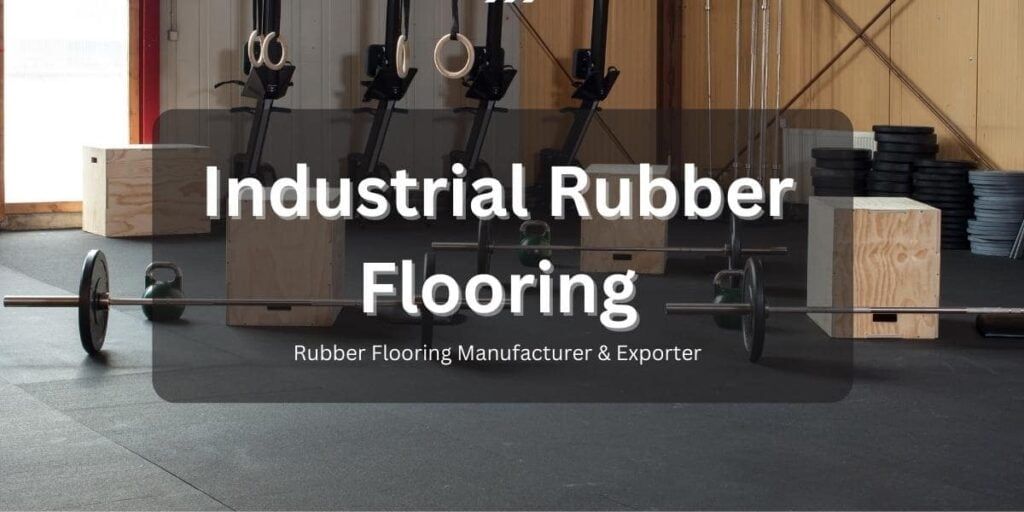 Tired of cleaning up after those dirty shoes that keep coming in and out of your building? Maybe you must prepare for some heavy machinery you plan to bring into your facility. Whatever the case, industrial rubber flooring can be a great choice, as it's more durable than other materials and easier to clean than wood flooring or tile floors.
Read on to learn why industrial rubber flooring may be the best choice for your facility and how you can get started installing it.
What Are the Benefits of Rubber Flooring?
Industrial rubber flooring can provide several benefits to a facility, including:
 Safety – Industrial rubber flooring is slip resistant and will provide a safe environment.
 Aesthetic – Industrial rubber flooring can be made in various styles, colors, and patterns.
 Durability – Industrial rubber flooring can last 10 years or more with the right upkeep. It is also 100%
recyclable, meaning it will not create any waste while being disposed of.
 Cost – Installation costs are lower than other types of floors, and the overall cost per square foot is
lower due to low ongoing costs.
 Eco-Friendly – Industrial rubber flooring does not emit harmful chemicals or fumes into the air like
other types of floors do.
How Can You Choose Industrial Flooring for Your Facility?
Choosing the right type of industrial flooring for your facility can be challenging. There are many types of
flooring to choose from, and it's easy to get lost in all the options. Some people might think they can pick any
floor and it will be good enough, but that couldn't be further from the truth.
Suppose you want to save yourself a lot of time and headaches. In that case, you need to keep a few things in
mind when choosing which type of industrial rubber flooring is best for your facility.
Industrial rubber flooring manufacturer and supplier, the first thing you'll want to do is make sure that you
have the space available for installing your new industrial rubber flooring.
What to Consider Before Buying a Rubber Matting?
There are a lot of different factors that you may want to consider before deciding on the type of matting to
buy. What is your budget? How many square feet will it cover? What style do you need?
Is the matting required for safety or aesthetic purposes? Do you want floor-to-floor coverage? And finally,
what kind of material does the matting need to be made from, and is it going to suit your needs in terms of
durability and slip prevention?
If your budget is limited, look into buying mats made from recycled rubber, as they're often much cheaper.
You can also invest in floor-to-floor coverage, which means no gap between the mats.
The drawback to this method is that all the mats would need to be replaced once if one gets damaged.
Rubber flooring offers a range of benefits: slip resistance, anti-fatigue properties, increased traction, and
cleanliness. The downside is that they are more expensive than carpeted floors with tiles but offer better grip
and don't harbor bacteria like carpeted floors.
How Can You Pick the Best Flooring from Among Many Options?
There are many considerations before deciding on the best rubber flooring for gym. Here are a few tips to
help you decide:
-What type of environment will the flooring be used in? A heavy-duty industrial or commercial environment
typically requires a stronger mat. In contrast, an average commercial facility can get away with using a
lighter-duty mat.
-How much of your budget is allocated to purchasing mats? Cheap mats may seem like a great idea, but
beware that they wear out faster and may not even last as long as more expensive options.
-What is your ideal surface material? Some people prefer natural surfaces like a cork because it provides
more grip than rubber, while others prefer more slip resistance.
Does It Last Long?
The durability of industrial rubber flooring can't be beaten. Industrial rubber flooring manufacturers and
suppliers have different thicknesses to suit your desired level of durability, from 3/8 to 1/2.
This flooring also provides a cushiony surface that is easy on the feet and back, so your employees will feel
more comfortable working on it all day.
It's also extremely resistant to wear and tear, meaning you won't have to worry about replacing the floor in
your facility anytime soon.
How Is It Installed?
Installing industrial outdoor rubber flooring is a relatively straightforward process that doesn't take too long or require any specialized skills. There are two methods you can use: glue down or floating installation.
Conclusion
In conclusion, industrial rubber flooring is one of the most cost-effective ways to cover your facility in a
manner that will last. With its durability and easy cleaning, rubber flooring is a great choice for any facility.
Read more: Ballistic Rubber Tiles | Rubber Tiles | Rubber Roll | PP Tiles Manufacturer