Outdoor  is the best place where anybody can play and spend their time with or without their family. We feel better in outdoor area due there open environment ,where our known or friends are also presents .Outdoor rubber flooring is best option for our kids also ,they love to spend more time in park area for play game.
Outdoor flooring is best option where we can fit out body through exercise or doing yoga. Yoga should be practiced in open area, green spaces, there is 9% more oxygen in park then other open area due to greener environment.
Rubber Flooring is best option in outdoor area, rubber tiles help to provides safety during workout, outdoor rubber flooring tiles also provides cushioning effect to our knees and heels which gives more relaxation.
When we talk about garden lover, they love to spend their time in garden and prefer to have enjoy tea or coffee there.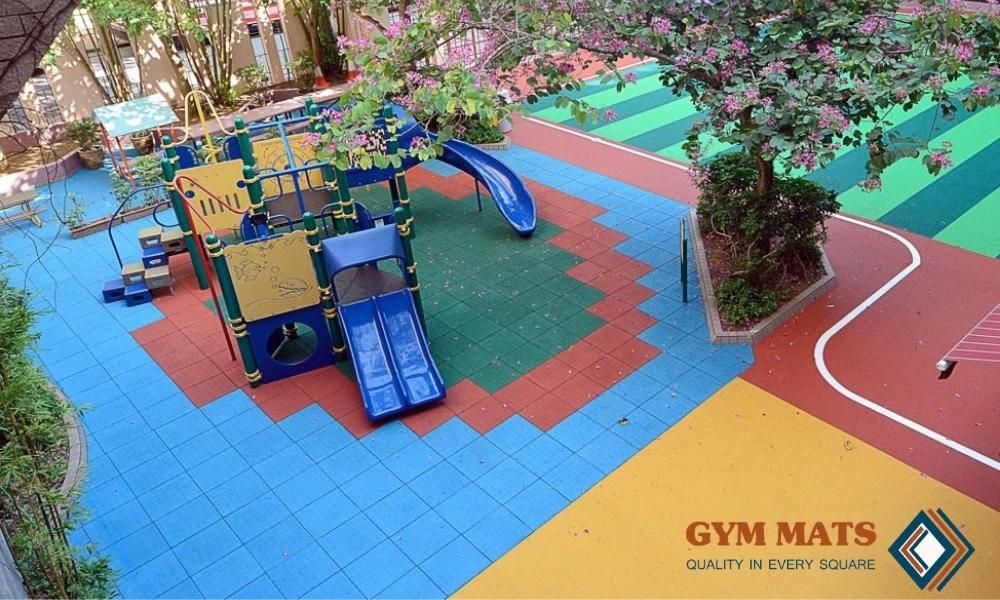 Gym Mats is manufacturer of outdoor rubber flooring in India in form of tiles, size of rubber tiles are 20"x20" and there is five color option like blue, black, grey, green, terracotta. We have variety in thickness which is 10mm, 15mm, 20mm, 25mm, 30mm, 40mm, 50mm, 75mm and 100mm.
The government has also taken many steps for setup outdoor gym in parks where anyone can use which is free of cost for peoples. Many gym equipment and kids play zone are available in this outdoor area.
In kids zone area rubber tiles are used which make safe surface for kids to enjoy their activities, during any fall or slip of your kids rubber tiles play rolls as caretaker.
Why we use rubber flooring in outdoor area?
Rubber tiles are best option for outdoor flooring area and we know that rubber tiles have anti-skid nature which helps stop the kids from slipping or any injuring.
Rubber flooring comes in different color and thickness so as per need we can use personal lawn or backyard for indoor or outdoor purpose to create wonderful atmosphere.
Basically Application of outdoor rubber flooring
 1. Public Park
2. Personal lawn or Backyard.
3. School playground area
4. Swimming pool path area.
5. Hotel lobby
Rubber tiles are anti-pooling in nature that's why it is used swimming pool path area, outer surface of rubber tiles keeping dry and due to this feature anyone can walk easily on surface without water slippage.