Are you planning to set up the home gym? Wondering from where to start? If yes,
then this guide is for you! This guide outline simple ways that you can follow for
setting up the home gym. Let's start with this useful guide! Happy Reading!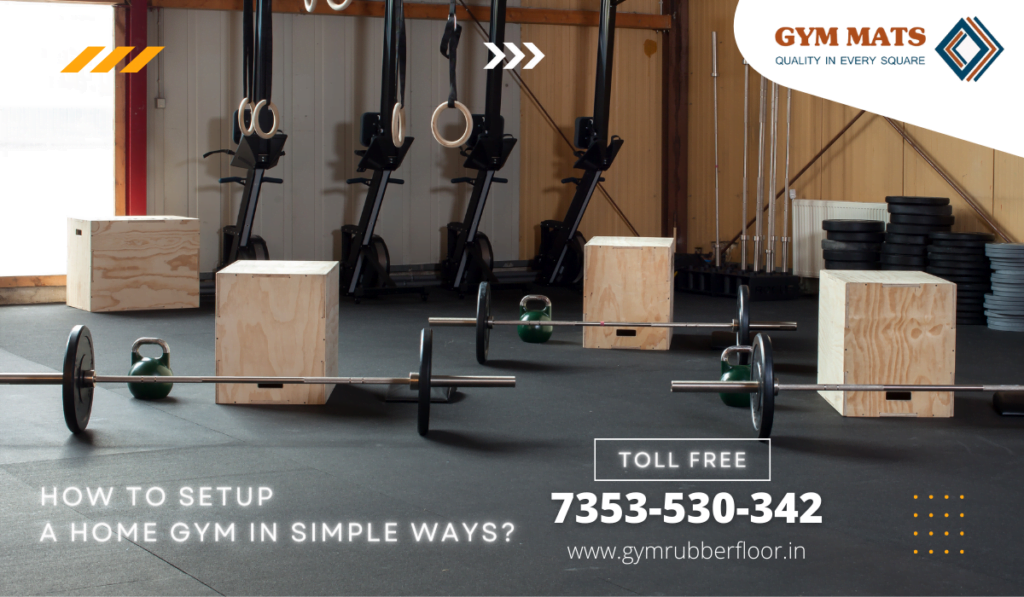 What is a Home Gym?
If we talk about home gym then it's the room that is arranged for doing a workout. In
home gyms, you will find weights, different exercise equipment, treadmills, and so
on. The reason a large number of people prefer doing exercise in home gyms is that
they find it more convenient as compared to public gyms.
In addition to this, home gyms provide more privacy as lot of people feel
uncomfortable doing a workout in front of unknown people. Also, it's an ideal means
to give your body a perfect shape without going anywhere else. Just focus on
installing a perfect home gym flooring for enjoying a comfortable workout.
How to Design a Home Gym?
When designing the home gym, you need to consider a few factors. Here we have
jotted down few tips that you can follow for designing the home gym as per your
requirements.
 Decide on the Gym Layout: You need a separate section for doing cardio,
stretching, weightlifting, pilates, and so on. In case of less space, you can
divide the space into small areas.
 Select the Right Equipment: When it's about choosing the home gym
equipment, you have to first decide the activity you want to perform. If you
want to focus on fitness purposes, skip buying heavy equipment. In case, you
want to focus on strength training then you need different weight machines
along with cardio equipment too.
 Consider the Space: Space is also an important factor that you need to think
about. Some people prefer to setup a smaller gym while some prefer large
gyms where the space is more for doing a workout. So, decide the layout as
per your need.
Steps to Setup a Home Gym
Home gym, no doubt, is a perfect choice for everyone who desires to enhance their
fitness level along with maintaining a healthy lifestyle.
Get the Home Gym Layout Right
The home gym arrangement is quite vital. To move freely around the machines, a
big room is required. You need adjacent electrical outlets when making use of
electronic devices like peloton cycles, treadmills, cross trainers, etc. For an
organized look, you can mount floor outlets just below the machines. You can setup
the gym in an empty guest room, home office, basement, or anywhere else.
Focus on a Basic Equipment for a Home Gym Design
It's vital that you think about the basic equipment first. You will require a durable
bench and sufficient space for doing a workout. Also, you will require basic
equipment like barbells, cardio machines, dumbbells, etc. These all basic equipment
are available at sporting goods store.
After that, if you want you can go for more specialized equipment. Like, if you want to
do weightlifting then you need to think about a squat rack and weight bench for
holding heavy weights.
Add Smart Storage to Home Gym Layout
You will feel good working out in an organized space rather than in a cluttered
space. You can improve the space aesthetics by adding storage cabinets. Use wall
shelving's for preserving the space where you can hang smaller pieces of equipment
like yoga mats, sippers, light dumbbells, etc. instead of putting them on a floor.
Get Durable Gym Flooring
It's vital to have durable home gym flooring that can protect the gym subfloor from
fallen equipment. Nowadays there are number of flooring options that you can
choose like rubber flooring, rubber mats, rubber tiles, vinyl flooring, and so on. If you
wish to prefer a hard surface, then you can make use of cushioned mats over it that
can be easily rolled out for creating a comfortable space.
Choose Uplifting Colors
Different colors generally have different effects so choose a color that will make you
feel more energetic. Colors like red, yellow, blue, green, etc., are recommended to
be used in a home gym. The neon accents can give your space a modern feel and
pastel colors can create a soothing environment for doing the workout. Just combine
two different shades to spice up your home gym.
Summing Up
All the above-given tips can help you in creating an effective workout space even in
your home gym. Just focus on quality and invest your enough time in doing proper
planning and designing it.
Read more: Rubber Tiles | Rubber Rolls | PP Tiles Flooring | Ballistic Rubber
Tile